Home
Halong Bay One Day (Luxury Tour with 6 hours)
Halong Bay One Day (Luxury Tour with 6 hours)
Prices starting from:
65USD/pax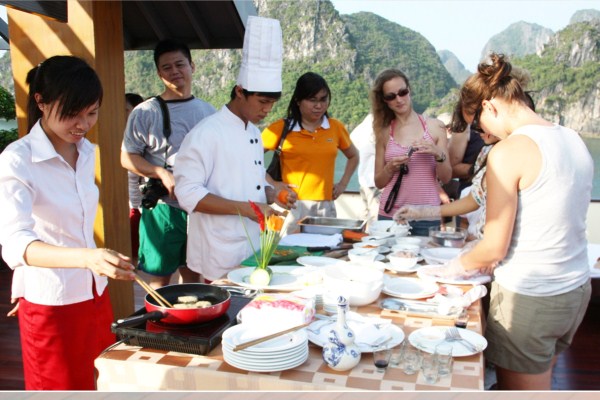 Halong Bay One Day (Luxury Tour)  :   65 USD/ pax
07.45: Our Limousine 10 seats pick you from Hanoi Hotel
Our English-speaking Guide will pick up guests from hotels at Hanoi Old Quarter, Timing from 7.30AM (ready)-8.00AM, for an on time trip and not impact to other guests, please be ready in above range time.
10.30: Sort break
Stop over to stretch the legs on the way or refreshment, about 20 minutes. You will have time to go to ''happy room'', buy drinks, foods, local souvenir…
12.15: Check in
The bus will arrive Tuan Chau marina, reach our Reception, meanwhile the Captain is going to register for the travelers list.
12.30: Boarding cruise
Easily get on Dragon King Cruise one day by private pier, and then Crew, who will serve you along the trip, warmly welcomes you. Welcomed drink is served following Cruise manager's briefing. While the boat heading the bay.
13.00: Lunch on board
Enjoy a nice set-menu lunch. By local flavors in each dish, it vitally helps to recuperate after a 4-hour-car drive. In the meantime, Genesis boat goes among islets, that make Halong becomes wonderland.
After lunch, you are free to relax on sundeck. While the light of afternoon decreases slightly, hundreds of islands with different shares definitely amaze you by its natural beauty. What Genesis makes your trip different is not the sights of Halong, but the line that you are on. It is the best to watch unparalleled sceneries of Halong in slow motion.
14.00: Kayaking / Sampan rowing boat
The boat will move to Hangluon (three tunnels) area, a water cave for kayaking, rowing bamboo boat or just stay on board for relaxing and the boar will slowly moving around to sightseeing more on the bay.
You will discover the area's tranquility by kayaking – an indispensable water activity in Halong, for those who love challenging themselves or sitting on bamboo boat (Sampan), for those who love being gentle and sophisticated, to admire breathtaking scenes. This is moment you get closer to Halong's nature. if you do not join any above activities, you could stay on sundeck for relaxing, then the boat will take you around the bay, do sightseeing other beautiful islets…such as Human head, Horse seat…Normally, this area is full of Cruises and tourists, but Dragon King Travel is one of the first cruise come here for afternoon, so it is really peaceful and less-touristic.
14.45: Discover Paradise Cave – Core area of Heritage site
You will leave the boat and having around 01 hour to explore Thien Cung cave. This least known cave locates on a remote island, which is rare in cave-lake seascape. The compartment in the heart of cave is surrounded by extremely beautiful niches. The outside section has a high ceiling with lots of hangover. In particular, the second compartment suddenly expanded immensely with curved domes printed in streaks of very smooth and smooth hats, wholly over the head like a large, wide theater. This is the hugest and most beautiful cave in Halong bay, stay in core area of heritage site with Titov island and Hangluon area for kayaking.
16.00: Get back Pier
This is moment you will take a rest after activities and time to capture the sunset image on the bay and Have Cooking Class and Sunset Party with fruits and snacks would be served to recharge the you "battery" before get on bus and be back Hanoi.
17.00: Get on Limousine
It is the time to say goodbye Halong bay, Disembark to get on the bus, moving to new express way to get back Hanoi.
18.30: Sort break
Short stop for rest room if needed, only 5 minutes.
20.00-20.30: Hotel / Farewell
Say goodbye to you and hope you just enjoy the trip with us, see you again. Halong Luxury One Day Tour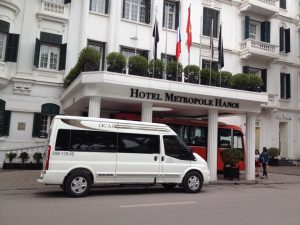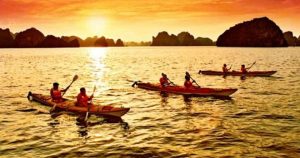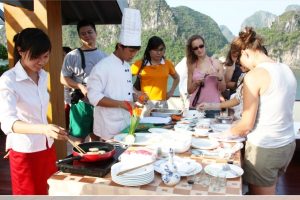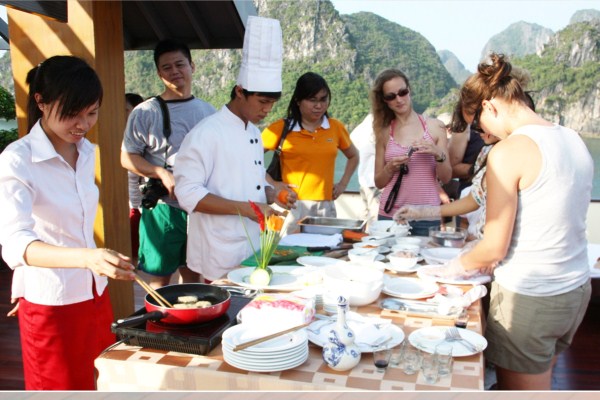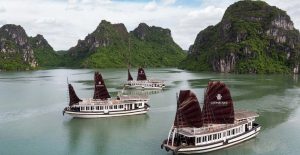 Inclusions:
Lunch on board (Vietnamese & sea food)
Mineral, WIFI, movie on bus
Afternoon finger foods before disembark
Entrance and sightseeing fees
Kayaking and bamboo boat
Luxury van transfer (round trip)
English speaking guide
On board insurance and service charges
Exclusions:
Beverages
Sampan rowed boat/kayking – 5$/pax
Tips and other personal expense
10% VAT (tax)
OTHER POLICIES
Cancellation:
Trip cancelled by bad weather or any force majeure case: 100% refund
Trip cancelled any sensible reason from customer as sick, flight delayed, go to hospital: 100 refund
Children Policy:
Children under 04 years old: Free of charge
Children 05 to 10 years old: Charge 75% rate of adult
Children from 11 years old and above: full charged as adult
THINGS TO BRING ALONG
Cash in Vietnam dong
Camera
Sport shoes prefer
Sun cream
Anti-insect cream
Phone headset to listen audio guide (if you do not have, we will provide in trip)
Halong Bay One Day (Luxury Tour with 6 hours)
65USD/pax
Book Now